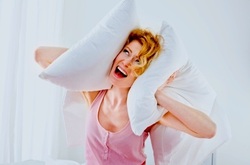 A French pop singer recently told me in a skype lesson that she felt very tense in her throat while she was home-recording a (beautifu!) demo song in her Paris apartment.
Even though the song was mostly sung in a soft head voice, she had trouble singing the higher notes with ease. When I asked her how she warmed up her voice, she gave me a quizzical look -- she never did any vocal exercises in her apartment. (As I found out that moment, she goes all the way to her parents' house in suburbia for our skype sessions.)

So basically she has been pressuring herself trying to sing a perfect demo -- without any vocal warm-ups in as few takes as possible while trying to not get audible to her neighbors! Does that sound familiar?

Like the French singer, most singers in densely populated areas such as New York City face the question of where to practice their craft without disturbing those living on the other side of that paper thin wall. But we know it takes hundreds to thousands of hours of training to build amazing vocal and musical skills. So doing that one voice lesson per week might not be enough if you are planning to make it to stardom before you turn 50!

But here's the good news for voice students: There is a lot you can do to improve your singing or prepare your voice for a recording, even in the middle of the night or while your roomie is studying!

Try these quick and (mostly) SILENT VOCAL EXERCISES FOR SINGERS:

1. Work on your breath support!

Inhale quickly (as if you emerge after diving in the pool) so that your lower ribs and abdomen expand. Do not inhale too much, otherwise your chest will raise and you are more likely to develop throat and neck tension!
Then suspend the breath with your abdominal and back muscles (without "holding" it in your throat) and keep the ribs expanded. After five seconds, release the air slowly and in a controlled manner. This will strengthen your muscles and help you to keep your diaphragm distended.

Advanced option: Once you master the exercise, you can start working on keeping the lower ribs in the extended position throughout most of the exhalation process. (Basically, you want to avoid behaving like an inflating balloon or air mattress!) Inhale quickly "into your lower ribs" and as you exhale, keep them positioned "outwards" for 3 seconds. You can increase the time once you feel comfortable - just make sure your body is overall relaxed at all times!

2. How to silently warm up your upper (and lower) range

Speak! To warm up without singing loudly, just speak softly in your normal voice while totally exaggerating the amplitude of pitches (think of that super-duper surprised girl hysterically asking her best friend "really???" over some news).
When using high notes, pretend to have a kid's voice and make sure you do it naturally, relaxed and "funny" rather than trying to sound like a singer. For low notes, speak slowly and look for steady vibration in your chest and mouth.

You don't have to get beyond normal speaking volume for this exercise. Just make sure you support your voice with proper breathing -- which is much easier when you really embrace the "roles" you are taking and do it energized (nobody is hearig you, after all! ;) )

3. Decrease tensions!

Most of us have way too much tension in our vocal tract, especially in our chewing muscles (are you a teeth grinder at night?). Those tensions prevent the tiny vocal cords from working optimally, so they should be taken care of immediately and consistently. This routine helps quietly:

Step 1: Yawn! Open your mouth and lift your soft palate; raise your eyebrows and do a relaxed, soft, sighing yawn to release tensions and relax your vocal tract. You can yawn from high to low notes, but keep it a natural yawn instead of a purposeful glissando.

Step 2: After a few yawns, give your jaw a "pressing" massage: Put your fists on your cheeks and press lightly so that your teeth seperate and your jaw comes down. Keep this position for 15 seconds.
Release your jaw, but keep your mouth open while sighing on "hah". It should now feel loose and free of any inhibiting muscle tension. If not, repeat the routine.

4. Perfection can wait! (for a few minutes...)

A general piece of advice, whether in volume-sensitive settings or not:

Take breaks! When you feel exhausted or tense while doing any exercises or recording vocals, look outside the window or have a cup of tea, leave the room for a moment or close your eyes for a long moment. Don't always try to be perfect instantly. Tensions tend to build up when we try hard, which creates a vicious cycle. Stepping back for a moment often times has a greater effect than any exercise or vocal tool could have.

5. Musicality comes from listening
You don't always have to belt your heart out. Musicality is to a large extent built through observing and listening. Grab your preferred device and play some good music -- on head phones, if more appropriate! And by listen I mean listen with intent. What is it that makes the singer sound so good? Which notes is he singing and in which vocal mode? Can you hear all instruments on the recording?
It also helps a great deal to watch videos of good (and bad) live performances.

For some ear training: After finishing listening to a song (that you should know somewhat well), try to softly sing just the first note and check back if you are in the right key and pitch!


There are many more exercises that you can do without troubeling your interresidential relations. The above ones are all pretty safe even for untrained singers. If you are taking singing lessons and already have established a good sense of vocal control, you may be able to include exercises for vocal cord closure or even some basic belting exercises into your quiet routine.

Another option to consider is renting rehearsal space to practice (most big cities have hourly studios for rent) and asking your neighbors about their work schedule -- chances are that there are time slots when none of your immediate neighbors will be in their apartment and you can sing to your heart's content!

If you have good silent exercises to share or have questions, please leave a comment!