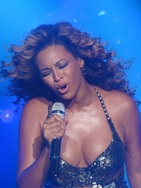 Beyonce postponing her NJ MetLife Stadium Performance that was supposed to happen tomorrow, Sept. 7 as part of her Formation Tour due to vocal problems is yet another reminder that the human voice of even the greatest and singers have limitations.
Everybody expects professional athletes to suffer from injuries from time to time, but somehow many forget that a professional performer is exactly that: a vocal athlete.
Beyonce is one of many artists that have suffered from vocal damage lately: Sam Smith and Meghan Trainor have recently undergone surgery to remove vocal nodules, and we all remember Adele being silent for a while not only to become a mom, but to rest her beautiful voice after a procedure to remove nodules from her vocal cords.
All those singers have good technique. So why do they get into vocal health trouble?
One problem is that good technique is not necessarily enough. Minor imperfections in technique like an overly rough onset (Adele) or minor strain on the mixed belting (Sam Smith) would usually not lead to severe damage in a hobby singer's voice. But singing with these imperfections for many hours every day to maintain a tough tour schedule and fulfill the demanding job under a major label while often getting insufficient sleep and traveling will weaken the system further.
Minor injuries such as bursting of small blood vessels on the vocal folds can happen when singers sing with imperfect technique or an exhausted physical system. If the cords don't have enough time to heal (due to the tight schedule and lack of rest), scars will occur in the form of polyps. By that point, the vocal cords are changed in shape, just like scarred tissue in any part of the body. It is ludicrous to think they will just go back to normal from there!
Preventing such injuries from happening is the only good strategy for maintaining vocal health. As singers, we do need to rest our voices to give them time to recover from trauma we might have caused in suboptimal conditions. We need to constantly refine our singing technique. Just because somebody is a good singer, it does't mean that person is safe from injury.
Some tips for long-term vocal health:
Don't force a sound. Sure, that raspy whisky voice has charme. But if you have a naturally clear voice, you should work with what nature gave you. You can safely learn to add some distortion to your voice with an experienced voice teacher who knows how to help you produce that sound with other layers of tissue than your actual vocal cords!
Rest. Sleep. Treat your voice like any other muscle of your body. You want to strengthen it, not injure it. Do you lift 200 pounds when you just start working out? I didn't think so! Start with easier songs and exercises and give your voice time to grow.
Take time-outs. Give your voice vacation for a few days or even weeks, especially when you feel tired or easily strained.
PRACTICE! Do your warm-ups and strengthening exercises regularly to build and maintain a strong, agile voice.
Be patient. Your range and power will increase over time. But you can't be the next Beyonce over night! It takes many, many, many hours of good practice to become good at anything, be it swimming, chess, or singing.
When your throat feels tense or your voice even hurts you definitely do not only need a break, but optimally you should seek support from a knowledgeable voice specialist. A good voice teacher or voice doctor can help you relax the outer muscles, free your vocal cords to function properly and prescribe rest as needed.
Let's hope Beyonce's voice is going to get the chance to properly recover, as I'm sure we all hope for many more years of impressive vocals from her.
​